Background
Before the Genocide, around 2 million Armenian people inhabited the areas of the weakened Ottoman Empire. Between 1915 and 1923, roughly 1.5 million Armenians perished, and the rest of 500.000 were either deported or Islamized.
April 24, 1915, marked the start of the Armenian Genocide. First, there was an arrest, deportation, and murder of hundreds of Armenian intellectuals and community leaders, mostly from what is now known as Istanbul (then called Constantinople).
Mehmed Talat Pasha, a de facto Ottoman Empire leader during World War I, ordered mass deportations of 800.000 to 1.2 million Armenians (primarily women, children, and elderly), sending them on death marches to the Syrian desert.
The Armenian Genocide resulted in the destruction of once strong and influential Armenian civilization in easter parts of Asia Minor. Together with the expulsion of Syriac and Greek (Orthodox) Christian, these acts laid the foundations for the creation of a Turkish national state.
The first traces of Armenians inhabiting the Anatolia area are documented since the 6th century BCE – almost 2.000 years before Turkish presence in the area.
Recognition status
Today, the Genocide is recognized by numerous organizations, national and local governments, and many political parties, academics, and organizations.
In April 2021, the United States and President Joe Biden formally recognized the Genocide. Today, 32 countries have officially recognized the Genocide.
The first country to officially recognize the Armenian Genocide was Uruguay (on April 20, 1965). Even before that, on January 25, 1965, Foreign Minister of Cyprus, Spyros Kyprianou, first raised the issue of the Armenian Genocide to the General Assembly of the United Nations. On April 24, 1975, Cyprus became the first European nation to recognize the Armenian Genocide. Cyprus continues to support Armenia and its political and economic stability and actively commemorates the Armenian Genocide.
Such strong involvement of the Cypriot government is understandable, especially since Turkey invaded Cyprus and proclaimed the so-called Turkish Republic of Northern Cyprus (recognized only by Turkey). Cyprus commemorates the Armenian Genocide remembrance day. Also, there are two genocide memorials in Cyprus.
Organizations and parties such as are United Nations, Council of Europe, Human Rights League, La Francophonie, European Parliament, and the European People's Party ( EPP) recognized or acknowledged the realities of the Armenian Genocide.
Although Turkey is formally negotiating with the EU to join the block, the formal recognition of the Genocide is not up as a precondition.
To this day, Turkey and its ally Azerbaijan are the only two countries in the world formally denying the Genocide. The official Turkish view (and the view of Turkish Foreign politics) is based on a belief that the Genocide was a legitimate state action and, as such, is not challengable or either moral or legal grounds.
Map of the countries recognizing the Armenian Genocide
Armenian Genocide recognition gained new momentum when, on April 24, 2021, President Joe Biden and the White House officially recognized the Genocide, mass killings, and the massacre of Armenians.
European countries, Russian and Turkey – map and status of recognition of the Armenian Genocide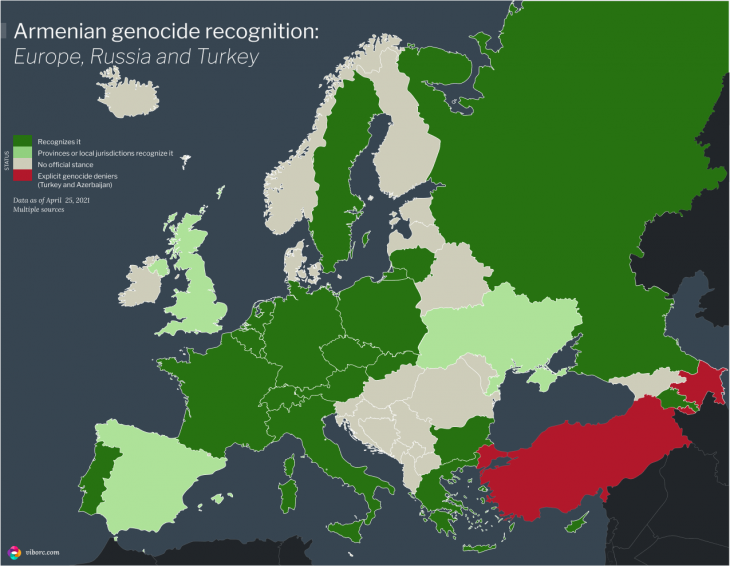 The World map and status of recognition of the Armenian Genocide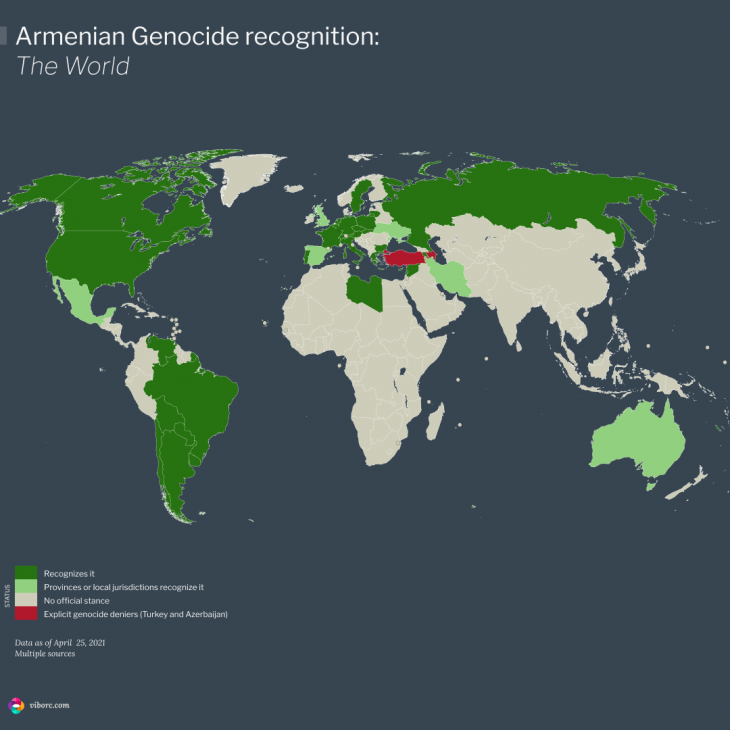 List of the countries recognizing the Armenian Genocide
Country
Recognized
Remarks
Argentina
1993, 2003, 2004, 2005, 2006, 2007, 2015
Armenia
1988
As the Armenian SSR
Austria
2015
Belgium
1998, 2015
Bolivia
2014
Brazil
2015
Bulgaria
2015
Canada
1996, 2002, 2004, 2006
Chile
2007, 2015
Cyprus
1975, 1982, 1990
The first European country
Czechia
2017, 2020
France
1998, 2001
Germany
2005, 2016
Greece
1996
Italy
2000, 2019
Libya
2019
Interim administration, the only African country
Lithuania
2005
Lebanon
1997, 2000
Luxembourg
2015
Netherlands
2004, 2015, 2018
Paraguay
2015
Poland
2005
Portugal
2019
Russia
1998, 2005, 2015
Slovakia
2004
Sweden
2010
Switzerland
2003
Syria
2015, 2020
United States
2019, 2021
Most recent recognition (April 24, 2021)
Uruguay
1965, 2004, 2015
The first country to recognize the genocide
Holy See (Vatican)
2000, 2015
Venezuela
2005