Recently I stumbled upon the interesting tweet posted by the European Commission's Croatian account – they were calling parents to invite their children to play "Zeleni Janko" game. One that should teach them how to be more environmentally aware and learn about a sustainable future. English name of the game is "Sustainable Shaun."
The Sustainable Learning team designed the game itself in the UK, and Aardman studio created the game. You can try playing the game here.
However, the map of the European Union used in the game is plagued with severe errors.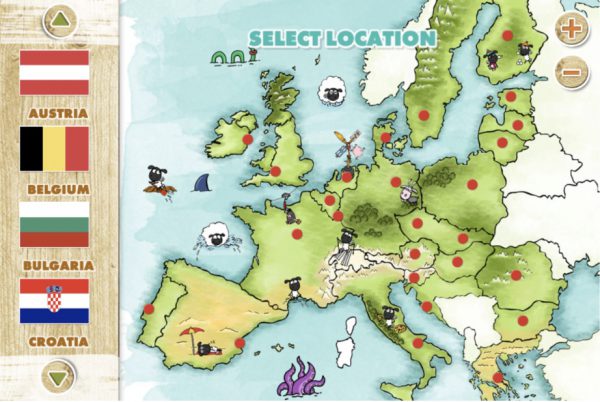 There are so many errors that it would take me a lot of time to list every one of them, but here are the crucial ones:
Borders
There are no borders of Bosnia and Herzegovina, Serbia, Macedonia, Kosovo, and Montenegro. Instead – they are all part of one country. Given the region's turbulent past and the breakup of Yugoslavia, more caution should have been given to this area.
Croatia loses a good part of its southern Adriatic coast but gets the entire Serbian province of Vojvodina
Czechia and Slovakia are again united in some new kind of Czechoslovakia which ended its existence in 1993.
The United Kingdom is divided, and you can see borders of Scotland, Wales, and England (Northern Ireland would be visible anyhow)
Kaliningrad Oblast, a Russian exclave between Poland and Lithuania on the Baltic Sea, is also not visible, and it seems to be a part of Poland now
Islands Corsica (France) and Sardinia (Italy) seem left out of the European Union.
Positions of capital cities
It is fair to assume that red dots on the map would represent national capitals, but if that is the case, there are numerous issues with that as well.
"Czechoslovakia" now has two capitals – one roughly around Prague (in present-day Czechia) and the other around Banská Bystrica (in present-day Slovakia).
The capital of Croatia seems to be Zadar; Spain's new capital is probably Valencia; Danes can now call Aarhus their capital, while Romanians are probably looking towards Brașov as their new capital. Even the UK's capital – London, is not where it was supposed to be. In Italy, the new capital is Foggia or Bari, while the new capital of Sweden is around Jönköping, while the new capital of Finland is roughly around Kuopio.
In conclusion
While this is a game aimed at kids, with a very noble cause and general idea, it is still wrong to oversimplify the map of the EU or, in some cases, even change the state borders of internationally recognized countries and national capitals.
This game was paid for by the taxpayers of the EU countries and our children, and we deserve better than this. At least a correct representation of our countries and the European Union as a whole.
Check out our full guide to ethics and ethical data visualization.